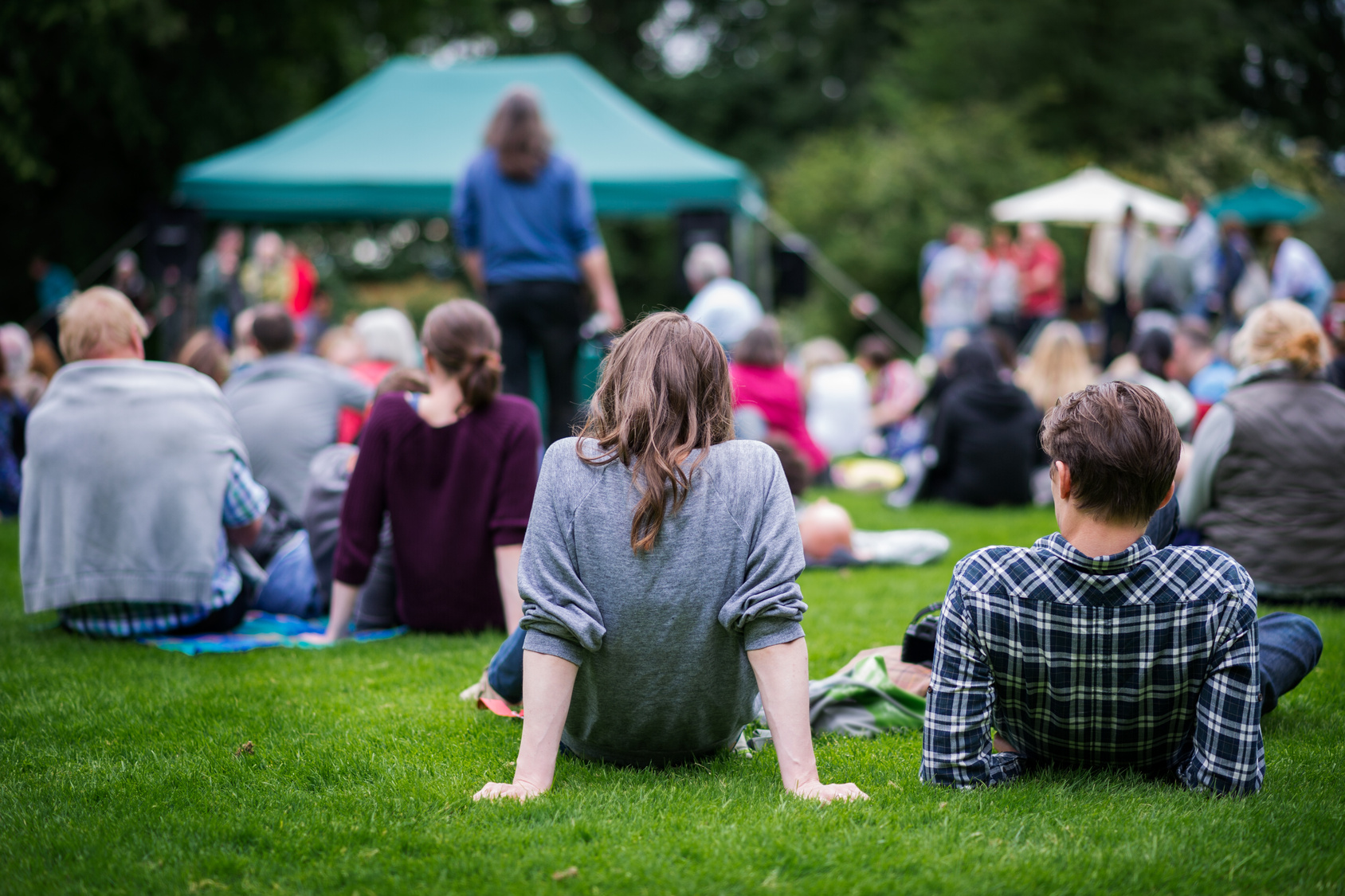 Set up Camp
For outdoor events, tents can be pitched just about anywhere. Stake one in your favorite park or even outside a gorgeous mansion.
Pitching a Tent
Whether you're going for formal or casual, tents come in all shapes, sizes, and materials. Work with your local rental company to figure out what style fits your vision (and the venue's spatial constraints). And make sure you choose a tent that works on your surface—pavement, grass, sand and so on.
Remember to: Weatherproof your tent. For outdoor events like a summer wedding, bring in fans and portable air conditioning units, and keep guests warm in chillier months with tall patio or propane heaters. You may also want to add floor surfaces (to correct uneven ground) and wall panels (to protect against wind or rain).
Bonus tip: Don't rely solely on your tent. Even the sturdiest tents can't withstand heavy rains and fierce winds. Your best bet is to have an indoor backup plan at a nearby reception space or restaurant. And if your area is known for having inconsistent weather, make sure your wedding insurance package covers rain, which could help you recover at least a portion of the fees if your event has to be postponed.
Renting the Extras
Since tents are virtually a blank canvas, you'll probably need some extra things to finish the look. Luckily, there are tons of rental options available for outdoor events—textured curtains and tiebacks, funky chandeliers and colorful cushions. Decide what elements are most important to you and then figure out how to fit the items at the top of your list into your budget.
Remember to: Find out the return policy for each rental vendor you work with. For example, companies sometimes require that votive's and glassware be cleaned and boxed before being taken back (fines can be added if directions aren't followed). Make an organized plan with your wedding coordinator (a key reason to have a planner!) or maid of honor to decide who will be responsible for taking care of this—then be sure to work it into the day's schedule.
Bonus tip: Reserve the site for your wedding day and the morning after. (Find out if the venue offers a package deal or how much each additional hour will cost.) With a tent and outdoor event rental setup, not to mention flowers and décor, your team of pros will need extra time to set up— and tear down—the site.
Keep Bugs at Bay
To control insects at outdoor events, think about having your site sprayed by an exterminator two days beforehand and placing citronella candles throughout the space.
Creating a Relaxing Space
Whether you've chosen a grand, grassy lawn or a small backyard, pick an area and make it more inviting with lounge furniture and lots of pillows. If you don't have room to bring in couches and plush chairs, arrange your dining area with smaller 4—person reception tables instead of larger 8— or 10—person tables to create a more intimate look and feel.
Remember to: Decorate! Drape fabric from the tent's ceiling to soften the space or to create sectioned off "rooms." Hang pomanders from the frame's cross sections, and add other details to welcome guests and enhance your wedding's unique design.
Bonus tip: Don't assume that your guests will find their way around. If your reception site will also be home to the ceremony and cocktail hour, make sure there's a natural flow between the spaces. You may need to add signs directing guests from the ceremony to the reception and pointing out the restrooms.
Cozy It Up 
The more you bring into your tent, the warmer it will feel. Colored linens, vibrant up- lighting and quirky knickknacks set a great vibe for any outdoor events.
Lighting Your Site
To set the mood (and help guests see each other), add paper lanterns, pinspot lighting, twinkling lights or stately chandeliers. Light up surrounding walkways for easy access to the bathrooms. Think luminaries and small up— lights along the paths and Mason jars with tea lights hanging from nearby tree branches.
Remember to: Have an electrician check out the space before lighting up your tent. Not only will he be able to make sure you pass all the proper inspection laws, but he should also be able to make recommendations as to whether you'll need to rent an extra generator and how to safely secure your lighting fixtures.
Bonus tip: You may want to keep a lighting pro (who has wedding experience) on hand to ensure everything stays in place—and lit up—all evening.
Providing…Necessities
If there aren't any restrooms nearby (and even if there are a few), you should consider New England Restrooms luxury mobile restrooms, because your guests deserve the Best! With amenities like in—room music, granite countertops and air conditioning or heaters depending on the season.
Remember to: Give guests something to talk about with a few subtle extras like luxe soaps, fresh flowers, and monogrammed towels.
Bonus tip: The general rule of thumb is to have one bathroom or stall for every 35 guests. This way, guests will spend less time standing in line and more time partying on the dance floor.
Choosing Music
Let the setting guide your music choice. If you're on the beach, you can't go wrong with steel drums. For a backyard reception, you might go for a folk or bluegrass group.
Remember to: Make sure your band or DJ has enough power to supply their equipment. This may mean bringing in an extra generator so you don't lose the lights in the middle of the party. They should be able to tell you what they'll need to set up at your site. Also, figure out where the band or DJ and dance floor will be. (Hint: Make sure it's not in the path from the kitchen to the tables.)
Bonus tip: Most city ordinances don't allow outdoor music late into the evening; do your research and then commit to a time when the band or DJ will unplug.
Creating the Menu
Having outdoor events, such as a wedding gives you the flexibility to get creative with your menu. Under a tent, you might throw a New England clambake, a spicy Southern barbecue or even a Hawaiian pig roast. But you probably wouldn't even consider those options for a ballroom affair. Regardless what food appears on your menu, plan to have plenty of cold water and refreshing non-alcoholic drinks on hand—especially if the weather is hot and humid. Lemonade and iced tea are good staples.
Remember to: Schedule a site visit for your caterer to make sure she's well equipped to handle the space. Also keep in mind that in most cases, your caterer will need a separate prepping tent. And don't forget about the need for electricity and running water. Work with your caterer to draw up a detailed floor plan.
Bonus tip: Make sure your catering company has experience running tented outdoor events. They'll not only provide all the right supplies (saving you the hassle of having to rent them) and set up and clean up, but they'll also know to have enough waitstaff on hand to ensure that all of your guests are taken care of.
Types of Tents 
Traditional fame tent
Small versions of these tents are typically the type used on residential patios in the summer. There are no interior support poles to obstruct views or furniture layouts, but the frame tends to be visible from the inside of the tent.
Pole tent
These tents have mountain-like peaks in the center plus one or two rows of interior poles, creating that lofted shape (something to consider when mapping out tables and the dance floor). They're often used for formal affairs and work well with vibrant ceiling up-lighting.
Gable end
A fancier version of a frame tent, this kind has fabric panels with a scalloped edge that caps each end, creating a formal entranceway.
Marketplace
Good for all types of affairs, the roofline on these tents peaks in the middle and supports sloped panels extending from either side. A Clear fabric is a popular option and side panels are available to help protect diners from inclement weather.
Pergola
These permanent structures offer a nice option for outdoor receptions. Though still open to the elements, a perimeter of pillars support overhead crossbeams, and an open lattice creates a feeling of shelter while offering a view of the sky and landscape.
Now Enjoy!